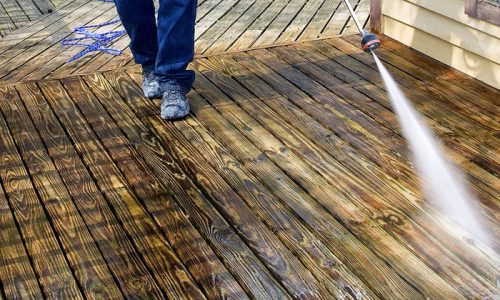 Tips, tricks and technique:
Depress the trigger with the tip at least 24" away from the deck and the lower the tip to 12-18" for cleaning. Do not immediately engage the trigger at the lowered height to avoid accidental etching or in case the pressure has been incorrectly set.
Use a sweeping motion to clean you deck. Maintain a consistent distance by moving your arm back and forth laterally. Avoid pivoting your arm, as this will create inconsistency in the distance between the tip and the wood of your deck.
Begin close to your house and work outward.
Always power wash with the grain of the wood by spraying lengthwise with the boards.
Overlap each power wash stroke to maintain consistency and an even clean and to avoid "cleaning edges" and dark spots.
Coming soon: Part 3: The aftermath